My name is Margaret Woods and I have been breeding, showing and judging Golden Retrievers for more years than I care to remember. When I first began, we all fed either fresh meat & biscuit, tinned meat or the very first basic "complete" dry dog food.
It was very "hit and miss" with incorrect balance of proteins, carbs, oils and fats not to mention the mineral and vitamin content.
Following this, the premium feeds became popular among breeders. Not only were they very expensive, but they were high in oils and also contained great quantities of preservatives to give a longer shelf life.
Many breeders changed over to a completely natural diet (BARF), believing this was the only way to avoid artificial colourings, additives and preservatives. However, this is costly, time consuming and it is almost impossible to get the exact vitamin & mineral balance over a period of time.
I am an absolute perfectionist when it comes to my dogs. I need my dogs in perfect health, with the exact amount of body weight without excess fat. I need them muscular but not too lean. I need their coats to gleam and shine with health. To win at top level they need to be in perfect condition!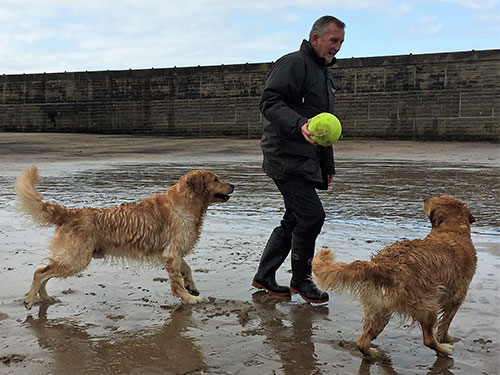 For many years I have worked with one of the leading UK manufacturers to develop a unique dry dog food that is top quality, but with a realistic price tag. Initially the processing could not be achieved, but recent investment into state of the art manufacturing equipment has enabled this quality "as near as you will get" to a natural diet to be produced.
I trialled this food for a year with my own dogs. I fed my in-whelp and lactating bitches the higher protein puppy food and successfully reared my own puppies fed exclusively on my grain free puppy food. My new puppy owners continued to feed my food and the pups grew steadily with good, straight bone, excellent muscle tone and beautiful coats.
My grain free food provides exactly what I need for my "AMIRENEs" to compete and win at Championship Show level. The puppy "scurf" or dandruff that was evident with my "premium" breeder products disappeared when changed over to my grain free.
My new customers were delighted that their dogs with "sensitive" tummies and digestion problems were so much better when changed to my grain free products.
I am currently looking to expand the range to include the toy and giant breeds, with different kibble size and packaging. If you have any questions or need any advice, please do not hesitate to contact me, I have over forty years of experience in all aspects of dogdom; rearing, training, showing and I have a houseful of dogs ranging from 18 months to old age.